So this post is completely out of time, as a) it is winter where I live, b) it isn't midsummer's day today and c) my Midsummer Night's Ultimate, Super Awesome, Life-Goal-Achieving Dream day was in winter, in London, 6 months ago. HOWEVER I am trying to coincide this post with the end of Carl's Once Upon A Time IV's challenge (and he is from a part of the world where it IS summer) and frankly, this is a far too exciting thing not to share with EVERYONE I know. As part of the challenge, there was an option to read or watch a performance of A Midsummer Night's Dream. Now I have seen this play this year (not within the time-frame of the challenge though, but what can you do?) and wow. It was epic.


Some background: When I was 12, I distinctly remember seeing a preview on TV for the movie Her Majesty Mrs Brown which starred Judi Dench (an actress I had never heard of). So like a good dutiful child I begged my mother to let me stay up and watch it because it looked so so good. Well of course she said no, it was on on a Wednesday night and I had school the next day, but she did let me tape it to watch it on the weekend. And I LOVED it. Not the standard movie that a 12 year old would love, but I was always a bit quirky! To this day this scene moves me to tears: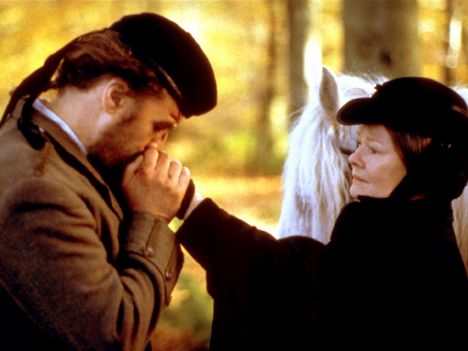 So over the next few years I became increasingly obsessed with Judi Dench and watched everything I could and read all the books I could about her and I still love her. Ever so much. And then last October I had a skydiving accident in which I dislocated my shoulder (hardcore) and tore lots of important inside shoulder bits and had to take 5 months off work. So feeling rather sore and sorry for myself I decided to do some googling and find out what Judi Dench was up to and discovered that she was starring in A Midsummer Night's Dream on stage in London. Now it would have been far too reckless and unrealistic to go all the way to London to see a play. Even if it was Judi Dench AND A Midsummer Night's Dream AND even though I had wanted to see her on stage since I was 12. But you know, the weeks dragged on, I had an operation, I broke up with the boyfriend, felt really sorry for myself and thought why the hell not?
And oh my, it was one of the most fabulous evenings of my life.I was in London, one of my favourite places, I was with one of my best friends who had just moved to the UK, and I was watching Judi Dench on stage, in my favourite Shakespearen play. I could tell you all about it, but what can I possibly say to convey the magic and wonder of that night?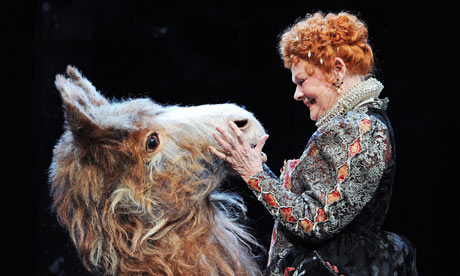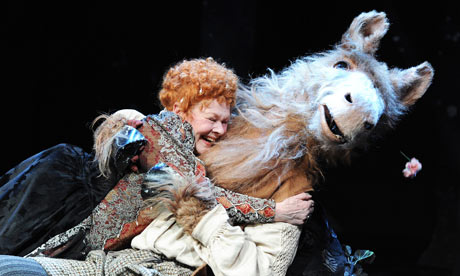 So was it worth the trip? Lets just say, isn't it just wonderful when something you dream about for half your life actually happens? I can tell you, it is bliss...